Decision making for institutional construction projects
by
Decision making dynamics are clearly defined in theory, but continue to be a major challenge in practice. Awareness of typical pitfalls will be an essential step to successful project completion.
Universities and similar institutions tend to be organized in hierarchical systems. However, once a project is conceived, input from all layers of the organization may be sought and processed. While the president of an organization may reserve a "final say", architects have to carefully analyze comments from students, janitorial and maintenance staff, donors, faculty and administration. Further, it is best practice to review state of the art solutions to similar projects, and discuss feasibility of implementing new practices that current user groups may not have been exposed to previously.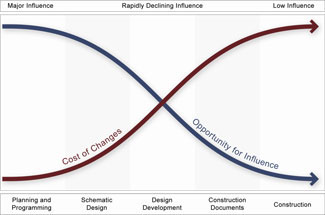 Budget constraints require creative compromises throughout the process. A textbook project will have most decisions set during the programming phase, since changes impact cost and schedule exponentially as the project progresses towards construction. As design develops every aspect of the project develops complex relationships with others parts. A mechanical unit that heats with gas is connected to civil, structural, spatial, and electrical requirements, each of which would be affected significantly if it was changed to an electrical heat unit later on.
Factors that lead to changes later in the project include actual changes of circumstance (e.g. funding) with direct effect on project scope; the common perception that "anything that isn't built yet can be easily changed"; executive levels that have special interest areas in the project, yet were not involved earlier based on time constraints; failure to communicate rationale leading to design compromises; and failure to foresee related changes when discussing "value engineering options".
While it is the architect's responsibility to guide all team members through the process, client awareness of these factors early on can be the ultimate key to a successful project.
Provided by Spark Architecture